Recently, two of our cases have been featured in Texas Lawyer showcasing our clients victories.
Congratulations to the Hagans Burdine Montgomery Rustay firm on your recent win in the courtroom!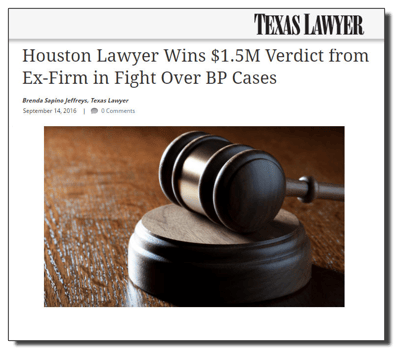 "Courtroom Concepts' trial consultants provide our legal teams an extra measure of confidence during high-stakes litigation. By assuming responsibility for the entire visual presentation—everything from displaying exhibits and PowerPoint presentations to setting up equipment—they allow us to concentrate on winning the trial rather than risk being distracted by technological details."

Fred Hagans
Hagans Burdine Montgomery Rustay


Congratulations to the Watts Guerra firm on your recent victory!
Not guilty on all counts.
"For years, I've counted on Courtroom Concepts to help me prove my
clients' cases. When my own liberty was on the line, my first call was to Keith Cartwright and the graphics professionals at
Courtroom Concepts."
Mikal Watts
Watts Guerra
---
At Courtroom Concepts, our mission is to help attorneys persuade jurors, judges, and mediators by showing a clear, compelling visual story aligned with their case's themes, strategies and facts.
As part of the trial team—both behind the scenes and in the courtroom—we take an active role in advising attorneys on how legal graphics can provide a powerful advantage.
Courtroom Concepts tailors trial graphics and litigation support services for each case's strategic needs.
If you are prepping for a trial and have questions, contact us for a free initial consultation. http://www.courtroomconcepts.com/consultation or email us at kcartwright@courtroomconcepts.com